YONKERS EVENT: Maria Abdullah, Diana Sanchez, Delfim Heusler And Ray Wilcox To Be Honored By Maddie DeeMarie Cheatham
Image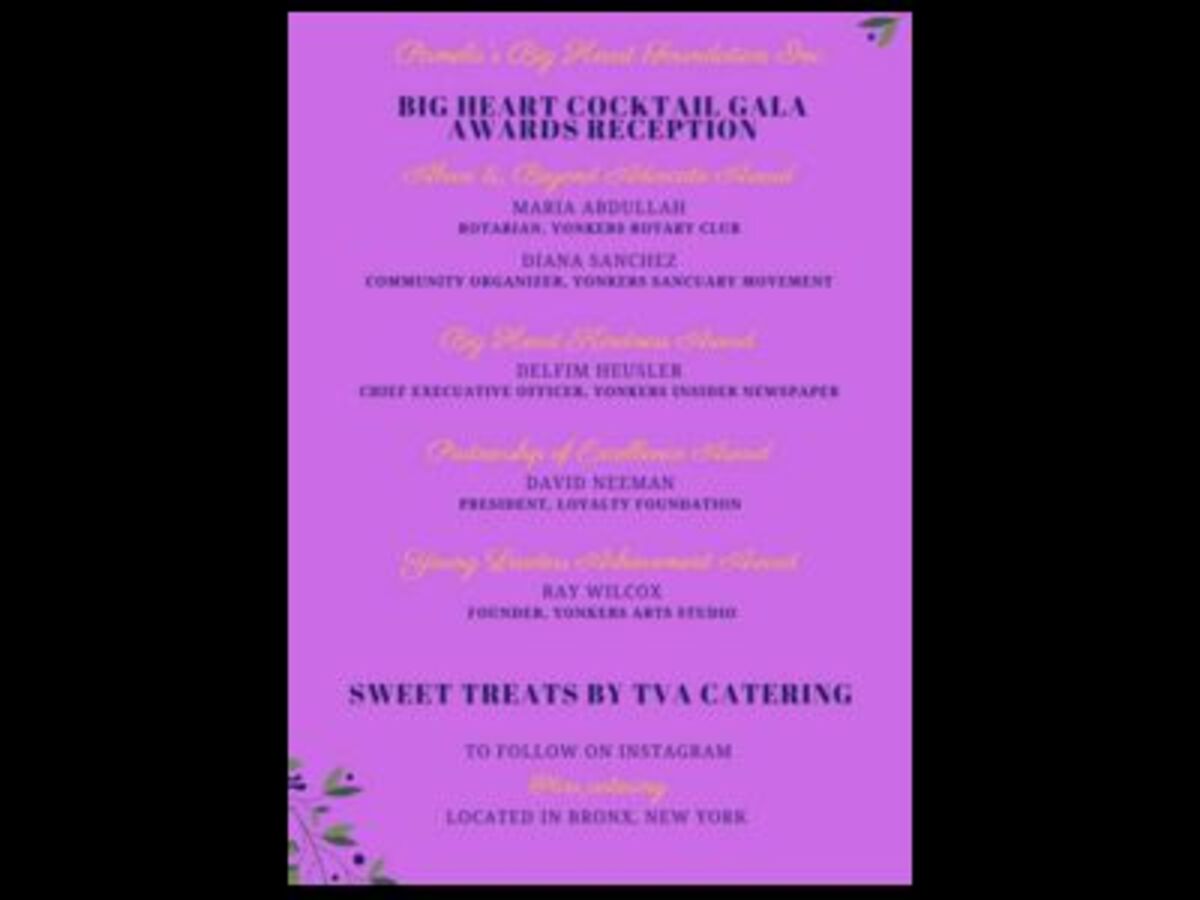 Join Pamela's Big Heart Foundation Inc for a night of Cocktails and Recognition of our Community Partners, Volunteers, and Friends.
Network, Enjoy Art, Drink and Donate to several great initiatives that will benefit the Yonkers community as a whole.
Tickets · $65
STATEMENT: From Yonkers Insider Newspaper Publisher Delfim Heusler
"I would like to Congratulate all of the Honorees for the Big Heart Cocktail Gala on Sunday, August 21, 2022. 
The Honorees are: Maria Abdullah, Diana Sanchez, #DavidNeeman, #RayWilcox and myself.
I look very forward to the Gala on August 21st. 
This Honor that will be given to me on that evening by Pamela's Big Heart Foundation means so much to me.
I am truly touched for being honored for Big Heart Kindness Award. 
Thanks to all in the Organization for including me and making me one of the Honorees for this Gala. 
I look forward to the Gala on August 21st."
https://www.facebook.com/groups/YonkersNewswire/posts/3292897040967851/

MORE INFORMATION: On Those Being Honored
Maria Abdullah @maria_maddalina - Advocate, Activist, and member of Yonkers Rotary
Diana Sanchez @d4ysm @yonkerssanctuarymovement Community Advocate, Activist, and Co-Founder of Yonkers Sanctuary Movement/Movimiento Santuario Yonkers 
Delfim Heusler @yonkersinsider1- Chief Executive Officer of Yonkers Insider Newspaper
David Neeman founder of @loyalty_foundation Foundation
Ray Wilcox @anystateofmine Founder of @yonkersarts @yonkersarts_space
216 Lake Avenue
Yonkers, NY 10701
United States