WELCOME ABOARD: Yonkers Hires 26 Probationary Police Officers
Image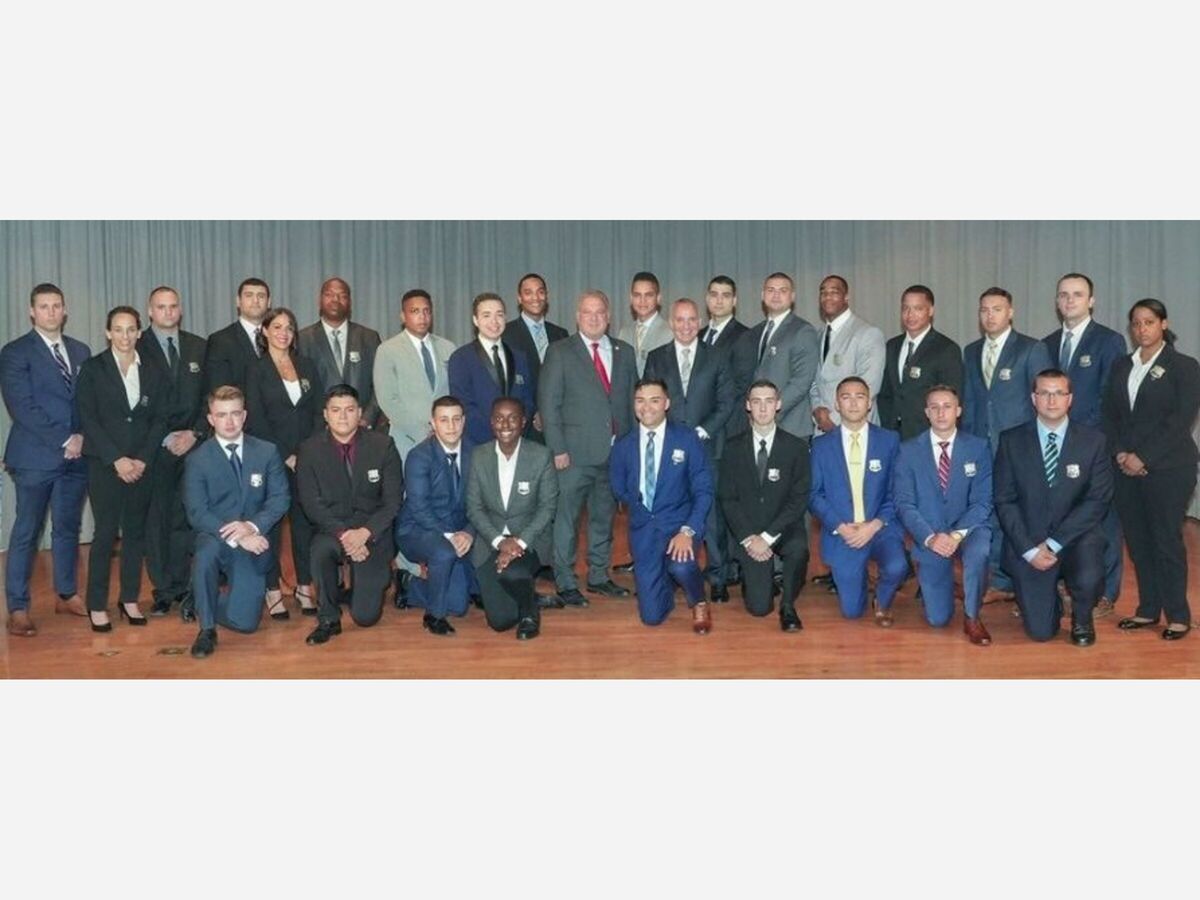 YONKERS (WESTCHESTER COUNTY) NY: An event took place at the Yonkers Public Library Grinton I. Will branch in the presence of Mayor #MikeSpano and Police Commissioner #ChristopherSapienza, dignitaries, family, and friends.

QUOTE: "We welcome these exceptional men and women joining the finest Police Department in the country and thank them for their commitment to serve Yonkers with honor and integrity," said #MayorSpano."This is one of the more diverse classes Yonkers has welcomed in recent history thanks to the public advocacy campaign, Be A Hero, Be the Change. We are excited to welcome the newest class of Police Officers who will go out to serve and protect the residents of our great city."
Nineteen of the new Police Officers are scheduled to enter the #WestchesterCounty Department of Public Safety Police Academy where they will attend Basic Recruit School, a 20-week program including courses in police science, law, physical fitness training, and more.Upon graduation, the new officers will attend secondary training, including field training with a certified field training police officer, at the #YPD before being assigned to their patrol commands.
Seven of the newly appointed Officers are joining the #YonkersPolice from neighboring jurisdictions.
These prior service members will enter the Department's Field Training Program before being assigned to their new commands.The addition of these new officers reinforces the City of Yonkers' commitment to public safety.
Appointed as Police Officers:
P.P.O. Ziad Abdullah
P.P.O. Laith Abumallouh
P.P.O. Matthew Aird
P.P.O. Bryan Arroyo
P.P.O. Bader Baidis
P.P.O. Nicholas Campanini
P.P.O. Kendall Carter
P.P.O. Elvin Castillo
P.P.O. Tyler Chen
P.P.O. Nicholas Chimenti
P.P.O. Virginia Creary
P.P.O. Justin Devito
P.P.O. Trevor Hayden
P.P.O. Timothy Horbach
P.P.O. Adeza Imafidon
P.P.O. Erica Malave
P.P.O. Danielle Malka
P.P.O. Junious Mason
P.P.O. Guillermo Mejia
P.P.O. Michael Reyes
P.P.O. Kyle Saul
P.P.O. Nicholas Scimia
P.P.O. Luis Segura
P.P.O. Jaylen Stiebel
P.P.O. David Walencik
P.P.O. Donald Wemer
"Any day that we can add Officers to our amazing Police Department is a good day," said Police Commissioner #ChrisSapienza."These new Officers will now be given the training they need to succeed in their new roles and serve the City of Yonkers. I want to, of course, thank #MayorMikeSpano and the Yonkers City Council for their support of the Yonkers Police Department in allowing our department to grow to fit the needs of our community."
The "Be the Change" program was launched by the Yonkers Police Department n preparation of the most recent Police entrance exam that took place in 2021.
This program was focused on recruiting Yonkers residents of a minority background, giving them training and support needed to prepare for the test and obtain assistance with the application process for the Yonkers Police Department.
The goal of this program was to recruit prospective Officers that reflect the communities they will be serving.
STATEMENT: From New York State Assemblyman Nader Sayegh
"Congratulations to the 26 new Yonkers Police Department Probationary Police Officers - now moving forward to attend the Westchester County Department of Public Safety Police Academy, while those coming from other police departments will go into the Yonkers Police Department's Field Training Program.