THE MARSHALL PROJECT: Police Misconduct Cost Yonkers Millions And The Complaints Keep Coming
Image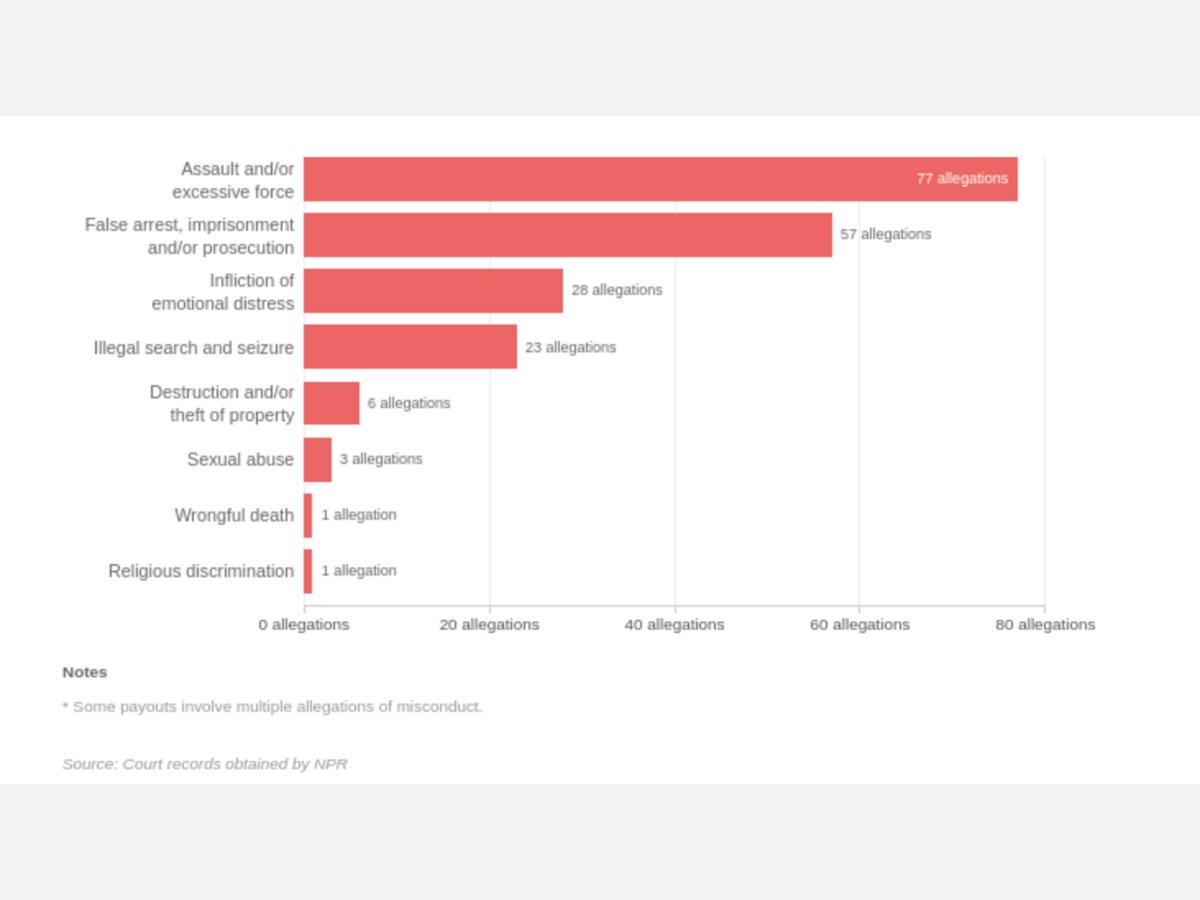 YONKERS (WESTCHESTER COUNTY) NY: The Yonkers Police Department does not look like the community it serves. Yonkers is 19% Black and 40% Latino.
But the YPD's force of 600 police officers are overwhelmingly white.
National Public Radio (NPR) was given unprecedented access to the Yonkers PD by former police chief John Mueller, who this year, became the Metropolitan Transportation Authority (MTA) Chief of Police.

NPR obtained records of payouts by the City of Yonkers for incidents of alleged police misconduct that took place between 2007 and 2020. 
This time period in which the payouts occurred was while the U.S. Department of Justice was investigating the Yonkers Police Department and recommending areas for reform.
During this period of Justice Department investigation and oversight, there were at least 102 lawsuits that alleged misconduct that resulted in either a settlement or a jury verdict with the City of Yonkers. 
The vast majority of the cases, 95, were settled. 
Seven payouts came after jury verdicts against the city, in which the plaintiffs were able to make their case in court.
The cost to the City of Yonkers taxpayers totaled more than $5.5 million. 
The average payout was $55,056. 
Many officers were sued repeatedly over the years.
At least 10 officers were named between four and nine times in the lawsuits we reviewed.
The city paid hundreds of thousands of dollars to settle cases involving their alleged misconduct.
Still, the officers often received departmental awards, and in two cases, a promotion.
These officers may be even more such cases since the court documents that were reviewed left many officers unnamed.
Many of the case the officers appeared simply as "John Doe."
One YPD officer, Alex Della Donna, was involved in at least nine settlements over alleged misconduct that happened after the DOJ started its investigation.
The city has paid out $402,500 for cases that he was involved in.
One case is still being litigated, although Della Donna retired at age 45 in late 2021.
A plaintiff in one of those cases, who was 15 at the time, stated in her court complaint that police pointed a weapon at her, opened the driver's side door and pulled her out.
She claims she hit the ground face first.
She alleges that Della Donna and four other male officers severely beat her, that she suffered a broken nose and several missing teeth, and needed to be hospitalized.
In her complaint, she says she heard officers laughing at her missing teeth; then she lost consciousness.
The Yonkers City Council members approved a taxpayer settlement with this lady.
Another woman alleged in a court complaint that Della Donna coerced her to have sex with him at least seven times in an unmarked vehicle while he was on duty, promising her that in exchange he would get her drug charges dropped.
In the court complaint, she claimed she was worried the charges could lead her to being deported and losing her children.
She claims that she became suicidal. 
Once again, Yonkers City Council members approved a taxpayer settlement with this lady.
In another case a woman says she was at her then-boyfriend's house, they were arguing, and he called the police.
A group of officers arrived and told her to show them her driver's license.
In her lawsuit she said that on the way to retrieve her license from her car, she was violently assaulted by four male officers — pushed to the ground, kicked, grabbed by her throat and lifted to her feet, and repeatedly thrown against the trunk of her car.
She claimed in court documents that what happened was unprovoked.
In her federal civil rights lawsuit she said  Officers took her to a holding cell, and after she requested medical care the police eventually took her to a Yonkers hospital several hours later.
There, she was treated for a fractured hand and injuries to her arm and shoulder.
Once again, Yonkers City Council members approved a taxpayer settlement with this lady.
The access to internal records that former Yonkers Police Commissioner John Mueller provided to the National Public Radio journalists about Officer Alex Della Donna were shocking.
Della Donna faced a disciplinary hearing 11 months after the suit alleging sexual assault was filed.
His supervisors wrote that "his sexual relationship with a criminal defendant exhibited a ... lack of professionalism that reflected unfavorably upon the department."
They revoked 30 days of paid leave and ordered him to retake an ethics training course.
That wasn't Della Donna's first disciplinary hearing.
In another incident, according to department disciplinary records, Della Donna allegedly pinned down a man being held in the old Yonkers city jail.
The records say he used his knee on the man's neck, even though the man wasn't resisting.
Della Donna's supervisors revoked four days of paid leave.
Despite that disciplinary hearing and several subsequent lawsuits alleging misconduct, Della Donna received 14 departmental awards.

In total Della Donna received more than 60 awards throughout the course of his nearly 15 years with the Yonkers Police Department.
YPD officers who were involved in frequent payouts are rarely disciplined, and when they were, their penalties are light.
Yonkers City Council woman Corazon Pineda-Isaac, was a lead sponsor of the legislation for a civilian complaint review board that failed to gain passage. 
The complaint board was supposed to enhance the new YPD police body camera program and Mayor Mike Spano's new police reform committee.
One officer, for example, was promoted to sergeant just three years after the city made the last of four payments in cases in which he was one of the defendants.
Three of the four cases resulted in a settlement; the other was a jury verdict.
The city paid out more than $417,000 in those cases.
From the time of the first lawsuit to the last, the officer received 38 departmental awards.
Another officer, now retired, has been named in six cases — all alleging excessive force.
The city has so far paid out more than $130,000 to settle those cases.
But, the police department could not provide any disciplinary records for this officer.
During the years the city was negotiating the settlements, the officer received eight departmental awards.
The majority of these plaintiffs claimed that officers used an excessive amount of force, such as being beaten by officers' batons or being thrown against vehicles.
Other allegations included false arrest, illegal search and seizure, infliction of emotional distress, destruction and theft of property, evidence tampering, sexual abuse, delayed medical care, religious discrimination, and the falsification of search warrants and other documents.
In two cases, lawsuits were filed by family members of people who died during an arrest.
Settlements are paid for out of general tax revenues and those payments were approved by the Yonkers City Council members.
In state and federal court documents, plaintiffs claimed they were punched, kicked, tackled, or choked — sometimes as officers used racial slurs.
Many alleged they were beaten with officers' batons or guns.
Some claimed that officers kneeled on their backs and necks while they were face down on the ground.
One plaintiff alleged that officers put him in the back of a police car after arresting him, sprayed mace directly in his face and shut the doors, leaving him without ventilation.
He claimed that police then took him to the parking lot of a local hospital and assaulted him again before bringing him inside for treatment.
In a different case, a man alleged that as he was being choked and kicked by police, another officer arrived on the scene, called it a "party," and asked the other officers, "How could y'all start without me?
In almost half of the 102 cases reviewed, people said they were hospitalized.
These settlements occurred when the Department of Justice began investigating the Yonkers Police Department in the summer of 2007, it was looking for a pattern of unlawful policing.
The Justice Department inquiry was prompted by Karen Edmonson, who lives in Yonkers and worked for the Yonkers NAACP at the time.
Around 2006, residents were reaching out to her with their stories about police misconduct.
The first complaint provided to Ms. Edmonson was from a man who said he was assaulted by officers, then assaulted again in the waiting area of a Yonkers hospital where they took him for treatment
Eventually, Ms. Edmonson collected about 60 complaints of officer misconduct and forwarded those to the DOJ
Ms. Edmondson served as president of the Yonkers Branch of the NAACP from 2005 to 2008, and Gail Baxter succeeded her as president. 
And the Justice Department found what it called "significant concerns."
Two years into its investigation, it outlined findings in a 26-page letter to the city.
It said that the Yonkers police did not have a "comprehensive" policy on the use of force, and that its manual contained little guidance for officers about when and how to use force.
Rather than providing definitions or legal standards of "reasonable" or "justified" force, the DOJ found that the Yonkers Police Department left it up to individual officers to define these terms for themselves.
For example, its manual instructed officers to apply force to "appropriate" areas of the body, without giving further explanation.
Regarding its policy on "deadly" use of force, the manual did not classify actions such as using an object to strike someone on the head, or putting them in a chokehold, as potentially fatal.
The DOJ said the manual's piecemeal approach was "dangerous" and noted that the Yonkers police manual lacked information about how officers might use de-escalation techniques in lieu of force.
"There is no policy, nor even a suggestion, of using less force," the Justice Department concluded.
In 2017, the YPD updated its use of force policy to include de-escalation practices and techniques.
It now requires officers to issue verbal warnings, when "practical."
And it requires officers to de-escalate a situation if a subject being arrested stops resisting.
Officers must also now wear name tags.
Former Police Commissioner John Mueller says the number of times officers reported using force went down while he was in charge, and he further claims the crime rate in Yonkers went down too.
Commissioner Mueller left the force in April of this year.
The department and the city of Yonkers say the settlements are meant to compensate people for harm done.
Andrew Quinn, a lawyer for the union representing Yonkers police officers, has told NPR's reporters that the settlement amounts are determined by estimating how much income a person and their dependents will have lost while recovering from injuries.
The New York Civil Liberties Union (NYCLU) has filed a lawsuit against the Yonkers Police Department, contending the agency has improperly rejected its request for records alleging misconduct by YPD Officers , including those that had previously been shielded by law from public view.
The legal advocacy group, an offshoot of the American Civil Liberties Union, contends the records are subject to public disclosure as the result of legislation enacted two years ago that repealed a 1976 statute that exempted law enforcement disciplinary records from public disclosure requirements.
Advocates for greater transparency for such records had cheered the passage of the repeal of what is known as Section 50-A of state Civil Service Law, saying it would open a window into how police agencies responded to complaints made by civilians and others against officers.
Such information was usually hidden from public view, with the rare exceptions coming when the results of internal affairs investigations were leaked to the news media.
The litigation seeks records relating to complaints of excessive force, employee misconduct, immigration and citizenship enforcement as well as diversity in the ranks.
New York repealed the exemption that prevented the disclosure of police disciplinary records amid a national movement for greater accountability over police agencies that gained momentum after George Floyd died in Minneapolis in May 2020 while being arrested.
A Minneapolis officer, Derek Chauvin, is now serving a prison term of 22 1/2 years after being convicted of murdering Floyd.

UPDATE: Journalist Kelly McEvers and producer of Dan Girma were on a WNYC Radio interview about the program and the transcript of that broadcast can be read here: