YONKERS SCHOOLS: Sign Long Term Lease For Two Empty Rising Ground School Buildings
Image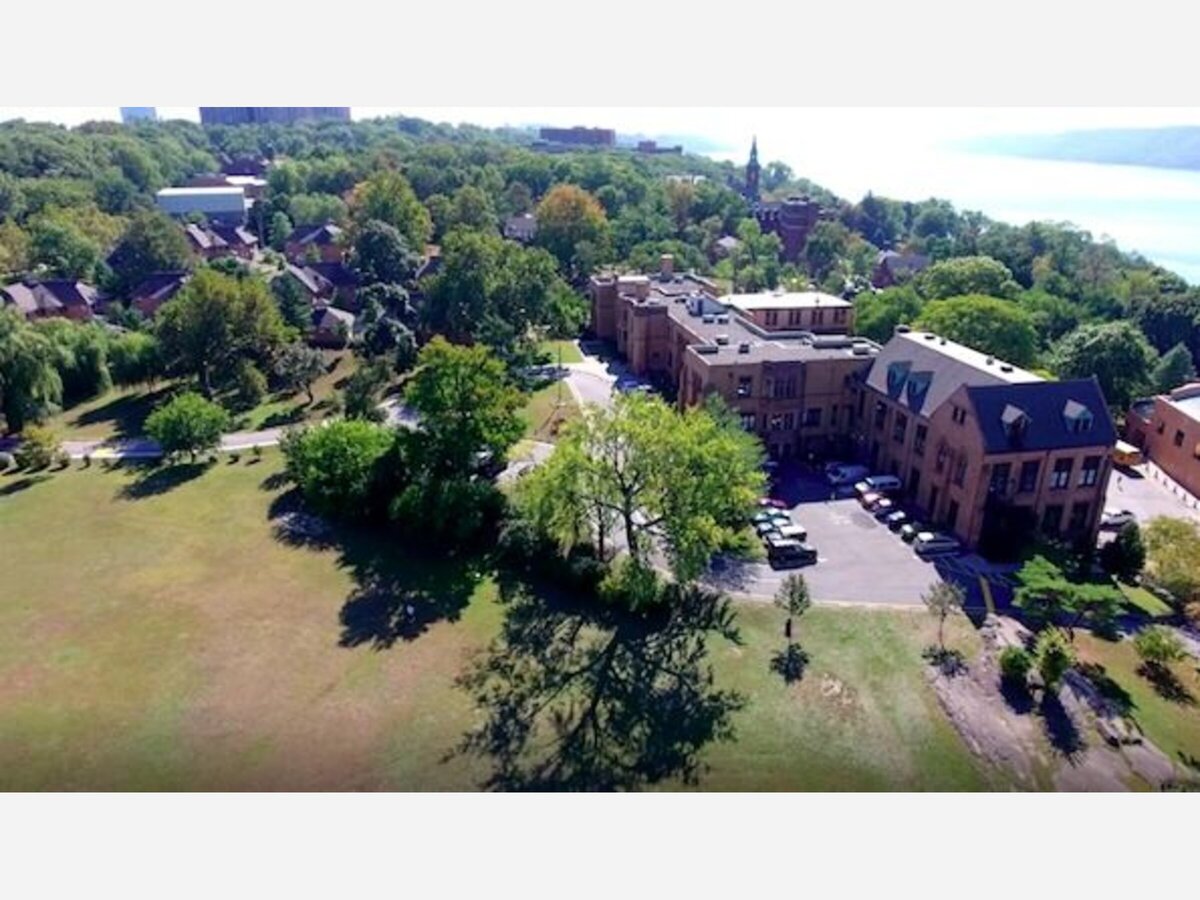 YONKERS (WESTCHESTER COUNTY) NY: #YonkersYonkers Mayor Mike Spano and the Yonkers Board of Education announced the Board's approval to sign a 20-year lease with iPark Riverdale, LLC., to rent the Frank T. Biondi and the Ames School Buildings at the former Rising Ground property on Hawthorne Street.
In partnership with Great Point Studios, owner and operator of the new #LionsgateStudioYonkers, the 100,000 square foot property will be the future home to Yonkers Public Schools' new media and production magnet school.
"Yonkers is thrilled to partner with Great Point Studios in our effort to invest in and provide more specialized educational opportunities for students and offer them the pathway to a career," said Mayor #MikeSpano.
"This school, along with the Justice Sonia Sotomayor Community School in construction now, means Yonkers soon will be home to two more vibrant and diverse learning institutions that will see our young people flourish and prepare them for the next phases of their educational journey."
In its new incarnation, the school, which currently houses the social services organization Rising Ground, will enroll approximately 500 students from Grades 6 to 12 and focus primarily on media and the performing arts.
The S.I. Newhouse School of Public Communications at Syracuse University, will be involved in developing the curriculum, which will ultimately provide a channel for students to apply and potentially attend Syracuse University.
The yet-to-be-named school is expected to open in 2024 and Great Point Studios will manage the renovations and buildouts on behalf of The City of Yonkers.
"This partnership with Great Point Studios and the S. I. Newhouse School at Syracuse University represents one of the most innovative approaches for educating and preparing today's global learners," noted Superintendent of Schools #EdwinQuezada.
"Aligned to New York State's multiple high school diploma pathways, Yonkers students will benefit from a rigorous and relevant academic curriculum enriched with hands-on learning experiences supported by state-of-the-art technology. These students will have the opportunity in high school to take sufficient college-link courses to lead to a college associates degree. Upon graduating from this new media and production school, these students will be ready to enter the news and entertainment industry or continue their post-secondary college education."
Board of Education President Rev. Stephen Lopez added, "Partnerships with local businesses is key to growing the infrastructure and academic capacity of our school system. The Trustees work hand-in-hand with #MayorSpano and Dr. Quezada to seek out and cultivate meaningful partnerships such as this new school with Great Point Studios and Syracuse University."
#GreatPointStudios founder #RobertHalmi, said, "I have long shared a vision with the #CityOfYonkers for the future of our entertainment industry. With the guidance of the Newhouse School, this new school will provide vital training for future media creators and performers and will allow our next generation to continue to grow on the strong foundation that we have created."
The #YonkersNY proposal is also subject to approval by the New York State Department of Education.
https://www.facebook.com/groups/YonkersNewswire/posts/3319596691631219/

PLEASE READ MORE YONKERS AND WESTCHESTER COUNTY NEWS STORIES HERE: 

STUPID CRIMINALS: Postal Workers Arrested After Mistakenly Leaving Fraud Evidence In A Yonkers hotel....
https://www.facebook.com/groups/YonkersNewswire
###
FOCUS ON EDUCATION: The Connecticut Chinese Language School (CLSC) Creates A Community In Westchester And Fairfield Counties...
https://www.facebook.com/groups/YonkersNewswire/posts/3319668694957352/
###
YONKERS CARES: Nodine Hill Mobile Food Pantry Is On August 25, 2022
https://www.facebook.com/groups/YonkersNewswire/posts/3319646028292952/
###
HELP FOR RENTERS: Westchester County Launches $10M Landlord Tenant Assistance Program
https://www.facebook.com/groups/YonkersNewswire/posts/3317023428555212/
###
HEALTH ALERT: Mosquitoes With West Nile Virus Found In Westchester
https://www.facebook.com/groups/YonkersNewswire/posts/3317050328552522/
###
FOCUS ON: Flooding In Westchester County....
https://www.facebook.com/groups/YonkersNewswire/posts/3317068098550745/
###
WESTCHESTER COUNTY: Free Rabies Vaccinations For Westchester Pets Saturday, August 27th
https://www.facebook.com/groups/YonkersNewswire/posts/3317088968548658/
###
Get More Hyper Local Yonkers News Stories Here: