YONKERS: Mayor's Annual Backpack to School Donation Drive Was A Success
Image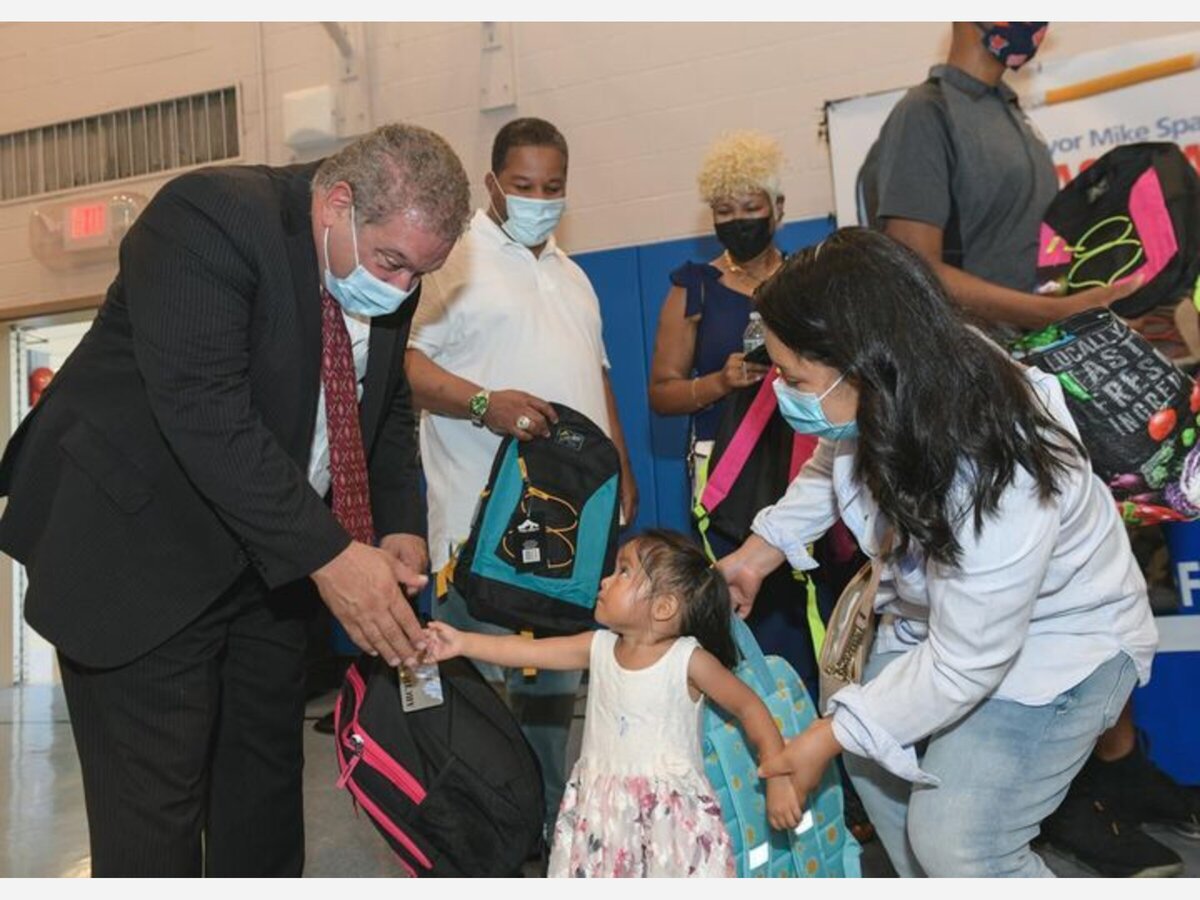 YONKERS (WESTCHESTER COUNTY) NY:  Yonkers Mayor Mike Spano joined Superintendent of Schools #EdwinQuezada and Enrico Fermi Principal #MarkAmetrano for the 11th Annual "Backpack to School Drive"
There were 800 backpacks filled with school supplies were presented to the students at Enrico Fermi School.
Yonkers Voice Video Journalist Ru Ros filmed the event.
https://www.facebook.com/ykersvoice/videos/502215761906363/
"The continued success of our 'Backpack to School Drive' continues to show the strength of our community and sponsors," said Yonkers Mayor Mike Spano. "I am deeply grateful for our city's ongoing support. This year we were able to collect over 1,500 backpacks and an abundance of school supplies for our students in Yonkers."
Backpacks and school supplies were donated by The City of Yonkers employees, residents, corporate and nonprofit sponsors including Heavenly Productions Foundation, Empire City Casino by MGM Resorts, PCNY Garden of Eden, Castle Royale, Fuelco, Rock & Rod's Collector Car Club, Ridge Hill and Elite Investigations.
"2022-2023 in the Yonkers Public Schools is our year to foster "Champions for Children," noted Dr. Edwin M. Quezada, Superintendent of Schools. Mayor' Spano's annual backpack drive magnificently personifies the school district's initiative. Today's champions are the backpack and school supplies donors. Through their efforts, our students and families at Enrico Fermi School start the new school year on positive path. We know that all children flourish and achieve in an educational environment replete with love and opportunities."
Board of Education Vice President Dr. Rosalba Corrado Del Vecchio added, "At every monthly meeting of the Board, President Rev. Steve Lopez and the Trustees acknowledge the generosity of individuals and businesses for donations of goods, services and monetary gifts. These donors, stakeholders from across our community, understand and act on their conviction to enhance opportunities for our students. The children and families at today's event met community members willing to reach out a helping hand. This commitment to children and education by community stakeholders truly is what is necessary for Yonkers Public Schools, in the third largest city in New York State, to continue its trajectory increasing student achievement for all students."
Chairwoman of Heavenly Productions Foundation, Dr. Kathy Reilly Fallon added, "On behalf of Heavenly Productions Foundation, we are thrilled to support Mayor Mike Spano's Backpack outreach and donate backpacks with school supplies and classroom supplies. Best wishes to all the students of Yonkers."
"Fuelco devoted itself to community outreach this summer. We gave veterans $5 in free gas on Memorial Day and Independence Day and offered consumers super discounted gas for several weeks. Now it's time to focus on kids and get them ready for school," said Fuelco President Adam Musa, whose Yonkers station is located at 651 Bronx River Road.
Since 2012, Mayor Spano's annual donation drive has distributed nearly 14,000 backpacks and school supplies to public school students.
During the August 2022 Drive, over 1,500 backpacks and an abundance of school supplies were donated by the #YonkersNY Community. Since 2012, over 14,000 Backpacks have been distributed in the City of Yonkers.
https://www.facebook.com/groups/YonkersNewswire/posts/3329670413957180/
Due to the continuous outpour of support, each year non-profit organizations, churches and clients of the Westchester County Department of Social Services in the City of Yonkers are also able to receive backpacks and school supplies.
According to the National Retail Federation, parents spend hundreds of dollars on back to school items, including school supplies, clothing, shoes, and electronics, totaling to more than $661 per child -- a 27% rise from pre-pandemic levels.

Original Report:
https://www.facebook.com/groups/YonkersNewswire/posts/3328889047368650/