MOUNT VERNON: Mayor Shawyn Paterson-Howard Is Launching A Jobs/Career initiative Though The Office Of Economic Development
Image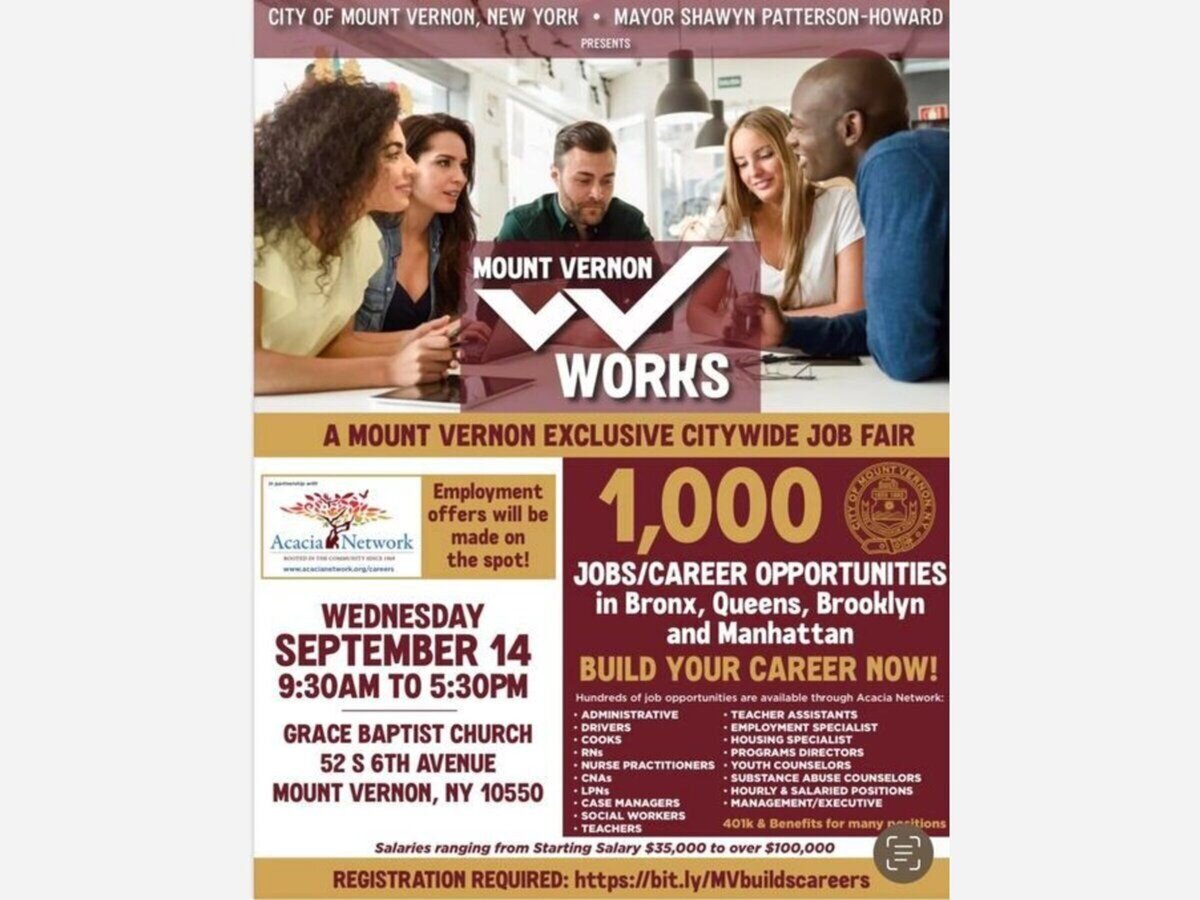 WATCH IT: A Video Message: From #MountVernon Mayor Shawyn Patterson-Howard
https://www.facebook.com/watch/?v=1118029822401049
CITY OF MOUNT VERNON (WESTCHESTER COUNTY) NY: Mayor Shawyn Paterson-Howard is launching a Jobs/Career initiative though the Office of Economic Development.
Simply, the ultimate goal for Mount Vernon WORKS is to assist Mount Vernon residents in obtaining employment opportunities.
This groundbreaking initiative is off to a remarkable start as the mayor negotiated with the NYC firm , Acacia Network ( Acacia Network – Rooted in the Community Since 1969 ) to make itself available for a one day event exclusively for Mount Vernon residents.
The event will take place Wednesday, September 14, 2022 at Grace Baptist Church located 52 South 6th Avenue, Mount Vernon, New York 10550 from 9:30am to 5:30pm.
Pre-Registration is required at https://bit.ly/MVbuildscareers
Acacia will provide over 1,000 Jobs/Careers opportunities for Mount Vernon residents with salaries ranging from $35,000 to over $100,000.
POSITIONS OFFERED ON THE SPOT:
Positions include (but not limited to):
Administrative, Drivers, Cooks, RNs, LPNs, Case Managers, Social Workers, Teachers, Teacher Assistants, Employment Specialist, Housing Specialist, Program Directors, Youth Counselors, Substance Abuse Counselors, Nurse Practioners, RN Manager, RN Supervisor, QI Coordinator, Asst. Comptroller, Administrator – Older Adult Services, Client Benefits Coordinator, Housing Coordinator, Psychiatric Nurse Practitioner, Nurse care Manager, Planning Associate/Grant Writer, Patient Navigator, Recertification Specialist, Regional Property Manager, Accountant and many other positions.
Many Positions are $100,000 and up including:
Quality Control Director
Administrator of Project Management
Cyber Security Specialist
RN SupervisorMedical Director
VP of Behavioral Health
Assistant Medical Director
Clinical Medical Director
Project Coordinator
Assistant Controller
AVP of Special Programs
Project Administrator
Controller
Physician Assistant
Administrator Psych
NPPsychiatrist
Senior Administrator
Licensed Nursing Administrator
Assistant Vice President
Controller
Please share this with your networks regardless if you need a job/career or not.
The potential collective yearly economic impact for Mount Vernon exceeds $50,000,000 in combined salaries (per year).
Mount Vernon is coming together as a community and promote this event so that as many positions as possible go to Mount Vernon residents.
Registration is required so be sure to register today at:
https://bit.ly/MVbuildscareers
If you have a criminal record or are formally incarcerated, please still apply as there are many re-entry employment positions available.
To learn more about Mount Vernon works, please contact Andrea Haynes via e-mail: AHaynes@ci.mount-vernon.ny.us
Be sure to come with your resume, cover letter and dressed for an opportunity that will change the life of you and your family.
https://www.facebook.com/groups/MountVernonNewswire/posts/2611157592354…
#CMVY #MVWorks #JobFair #AcaciaNetwork #EconomicDevelopment #EconomicEmpowerment
MORE INFORMATION: Video Journalist  Ru Ros Gets More Information About These Jobs With Salaries Range From $35,000 - $100,000
https://www.facebook.com/ykersvoice/videos/590877172734420/